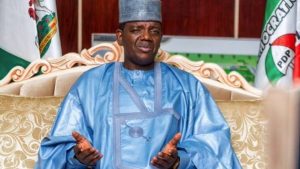 The Zamfara State government has rejected claims that Governor Bello Matawalle donated vehicles and huge cash to repentant bandits in the state.
The government in a statement signed by the Special Adviser to the Governor on Media and Communications, Zailani Bappa described the allegation as false and misleading.
It will be recalled Sahara Reporters had in one of its publications, alleged the Zamfara State Governor has shared about fifteen brand new Hilux vehicles to leaders of different repentant bandits in the state.
It added that he also shared millions of naira to the repentant bandits as compensation.
A top military officer quoted in the report also noted that some bandits now carry out attacks with some of the vehicles given to them by the Zamfara Governor.
However, in a reaction to the story, the Zamfara state government has labelled the report as wicked and malicious.
It added that the story is capable of damaging the relative peace being enjoyed in Zamfara State.
Explaining the government side of the story, Bappa said the news platform failed to balance its story in failing to reach out to the government before publishing.
It further described the act as careless, a display of quackery and sheer mischief targeted at polluting the minds of law abiding and patriotic citizens of the state.
The statement added that the said vehicles were not donated to repentant bandits as claimed but to security agents in the state.
It noted that the government is still honoring the peace accord with repentant bandits leading to the establishment of ruggah settlement in Maradun local government area.
Meanwhile, President Muhammadu Buhari has rejected the ultimatum asking herdsmen to leave Ondo forest reserves by Governor Rotimi Akeredolu.
Naija News recalls that Akeredolu had ordered herdsmen in the state to vacate the forest reserves within a period of seven days counting from Monday, 18th January.
The Governor also banned night grazing as well as highway and under-age grazing in the state.
According to Akeredolu in a statement issued on his official Twitter handle, the actions are part of efforts by the government to combat cases of kidnappings and other security challenges in the state.
But reacting in a statement on Tuesday by his Special Assistant on Media and Publicity, Garba Shehu, Buhari described what is emerging as a lack of consistency in messaging which in turn leads to various contradictions regarding accuracy and the intent behind the message.
Buhari urged the state government and the leadership of the Fulani communities to continue their dialogue for a good understanding that will bring to an urgent end the nightmarish security challenges.