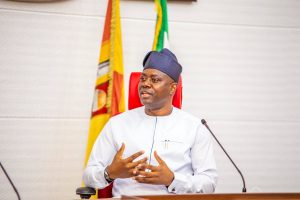 Governor Seyi Makinde of Oyo State has revealed why he is yet to personally visit Ibarapa and Oke Ogun area of the state following the Fulani herdsmen crisis.
Recall that Yoruba activists Sunday Adeyemo, popularly called Sunday Igboho, alongside supporters, had recently chased herdsmen residing in the area.
This resulted in the burning of the house belonging to Saliu Abdulkadri, the Seriki Fulani and later the burning of Sunday Igboho's residence.
Speaking on the issues, the Chief Press Secretary to the Oyo State Governor, Taiwo Adisa, said Makinde would not jump the gun by altering the processes that must be followed in ensuring that the sensitive matters on the ground were addressed through a pragmatic approach.
According to him, Makinde's refusal to show up does not suggest that he had not fully taken charge of his duty as the chief security officer of the state.
Adisa said, "The allegation that the governor went to Akure while he has not gone to Ibarapa is like mixing apples with oranges. The meeting in Akure was a South-West meeting which involved governors of different states of the North and the delegation from the President (Maj-Gen Muhammadu Buhari (retd.)) and all the security agencies of the states of the South-West.
"You don't leave the meeting of the Nigeria Governor's Forum for a meeting that would take place within the corridors of Oyo State. The governor had sent two powerful delegations to Ibarapa and Oke Ogun areas within one week and immediately after the incident when somebody issued a threat.
"The governor had been fully briefed on what is happening in Ibarapa. He had also called the meeting of all the local government chairmen and political leaders in that area, which was why he came up with the security strategy to deal with the situation in Ibarapa as he did few days ago. That he has not gone to Ibarapa or Oke Ogun does not mean he is not working on the issue in the axis.
"The issue of Akure involves the whole nation. The CP, Oyo State, as we speak, is holding a joint security meeting with all the security agencies and stakeholders in the state. The governor is the chief security officer of the state. His business is not to carry the gun to pursue the criminals. His job is to take the final decision on issues affecting the state."