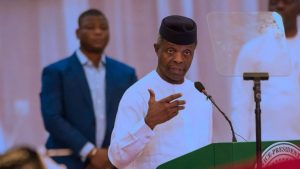 Yemi Osinbajo, Vice-President has noted that despite the incessant killings in the southern part of Kaduna state, the government has recorded progress.
He added that he has been involved in the resolution of issues in Southern Kaduna since 2001 through a Non-Governmental Organization
He noted also that the issues have gone on far too long.
He said, security has first of all been improved in the state, adding that there is now a military base, with air force surveillance, the combined military team from the army and the navy to take care of the volatile situation there.
"The President has also held security meetings and I have attended all of them where the issues have been discussed. Possibilities of engagement have also been looked at.
"I have similarly engaged with community leaders in Southern Kaduna and I have also engaged with the Governor to look at what peace keeping efforts are possible to deal with the perennial issues that have resulted in the disgraceful human conditions there."
He added that those responsible for the "mayhem" in Southern Kaduna must be apprehended and prosecuted "so impunity doesn't reign."