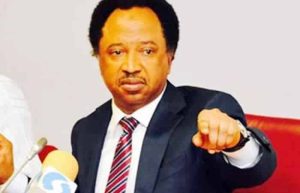 Senator Shehu Sani, a former lawmaker who represented Kaduna Central in the National Assembly has warned that President Donald Trump may be sending the wrong signal to leaders in some other countries of the world.
The lawmaker who spoke on Sunday, warned that Trump's current body language as regards the American presidential election may be encouraging some tyrant leaders in Africa and elsewhere to cling to power at all cost.
He further warned that the effect of what is going on in the United States of America at the moment has far-reaching implications beyond just the country.
Naija News reports while final official results are yet to be declared, Republican candidate, Joe Biden has been widely reported in the media to have won the American presidential election, but Democratic candidate and incumbent President, Donald Trump has failed to acknowledge him as the winner.
Similarly, Biden has been parading himself as the President-elect, has been congratulated by many world leaders and countries, but Trump is insisting the election is not yet over and has been accusing the Biden camp of election malpractice.
Reacting to the situation, Sani, in a tweet on Sunday, said "America has always been an exemplar for democracy and freedom."
"The behavior of its leader not just threaten the moral standard of that country but gives tyrants in Africa and other parts of the World a justification to suffocate democracy. The events in America is of concern to us," he added.
America has always been an exemplar for democracy and freedom.The behavior of its leader not just threaten the moral standard of that country but gives tyrants in Africa & other parts of the World a justification to suffocate democracy.The events in America is of concern to us.

— Senator Shehu Sani (@ShehuSani) November 15, 2020