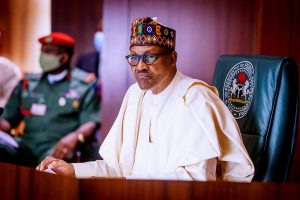 President Muhammadu Buhari has opined that the All Progressives Congress, APC,was embroiled in bitter and unnecessary squabbles, despite its dominance at all levels of government.
This, the President noted while he was Inaugurating the APC's Executive-Legislative Consultative Committee at the Council Chamber, presidential villa, Abuja.
Buhari said the problems within the party has cost it governorship and legislative seats during elections.
He warned that such should not be allowed to happen again, while noting that the meeting was called to avert the occurrences in the future.
He said, "We must now ensure regular consultations between the party and the governments.
"Our party commands a clear majority in the Senate and the House of Representatives. The Vice President, the Distinguished Senate President, the Right Honourable Speaker and I, all belong to APC, and working relationships between the Executive and the Legislature has been excellent so far.
He noted that it is the joint responsibility of the party to continue excellence, and see where can be improved to foster communication and coordination.
"But we must admit to ourselves that our party has been too often embroiled in bitter, and on occasions, totally unnecessary squabbles, costing us seats in the legislative and gubernatorial elections.
"This never should have happened. We are here to make sure such occurrences never happen again.
We must now ensure regular consultations between the party and government.
"I am a firm believer in the doctrine of Separation of Powers, which is fundamental to our constitutional democracy, but our practice should be harmonious checks and balances, devoid of bitterness and petty rivalry.
"As one government, we must further align ourselves and be alive to our electoral promises. We need to nurture our party, which is the platform that will take us and our country forward."
President Buhari said he was placing great faith in the consultative committee to help improve governance and APC's achievements to the people of Nigeria, saying that he expects regular feedback on the committee's activities and "I am as always ready to lead and find solutions."
He added: "Your success will directly enhance the success of this administration and greatly improve the conditions of our people