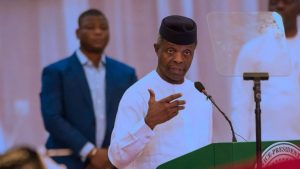 Vice President, Yemi Osinbajo has warned all ministries and federal government agencies to stop the extortion of contractors businesses
Speaking on Friday during the virtual edition of the Presidential Policy Dialogue hosted by the Lagos Chamber of Commerce and Industry, Osinbajo said the government aimed to improve the Nigeria's status by making it feature in the top 100 nations on the World Bank Doing Business Index Ranking.
He called on private sector to lead the charge for Nigeria's economic growth and development by keying into the Economic Sustainability Plan of the Federal Government.
"I take this opportunity to encourage the private sector to be proactive in leading the charge against recession and poverty in our country. The Federal Government is not under any illusion that it can do this on its own."
Naija News Understands that the warning his coming as President Muhammadu Buhari signed into law the Companies and Allied Matters Bill, 2020, recently amended and passed by the National Assembly.
This was made known by the Special Adviser to the President on Media and Publicity, Femi Adesina, in a statement issued on Friday, August 7, 2020.
Adesina said the law will see to the reduction of filing fee and other reforms to make it easier and cheaper for small and medium-sized enterprises to register and reform their businesses in Nigeria.