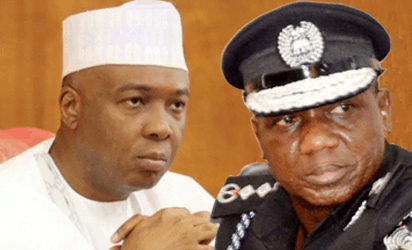 The then President of the 8th National Assembly, Bukola Saraki, has disclosed why the then Nigerian lawmakers summoned the former Inspector General of Police and Security Chiefs.
Responding to a tweet by Dele Momodu, the Publisher of Ovation Magazine on Wednesday, December 30, Saraki noted that his decisions as the then president of the national assembly were not personal but of the nation's interest.
Naija News understands that Momodu in a series of tweets on Wednesday described Saraki one of the "most intelligent, courageous and urbane Leaders in Nigeria".
According to him after showering praises on the former political leader, he was not sure if the current leadership of Nigeria think citizens deserve any explanation from them.
He tweeted: ""I have never hidden my admiration for the former Kwara State Governor, 13th Senate President DR ABUBAKAR BUKOLA SARAKI, one of the most intelligent, courageous and urbane Leaders in Nigeria. Many now appreciate his unprecedented interventions in the 8th National Assembly."
In his response, Bukola Saraki tweeted: "Thanks Dele Momodu! Compliments of the season! As I used to emphasize during our conversations while I was President of the 8th @NGRSenate: the decisions that we took, the positions we adopted, and the interventions that we embarked on were in the interest of the nation."
Responding back, Momodu again wrote: "Good morning Sir. Always a pleasure to read from you. You've always been a pro-active leader. It is obvious our current leaders have been too taciturn and stingy with informing Nigerians appropriately… I'm not even sure they think we deserve any explanation from them."
"When we didn't confirm certain appointees, it was because we did our due diligence," Bukola Saraki added.
"When we invited the IG and the security chiefs, it was because we wanted to find solutions to the issues of insecurity at the time. It was never about a personal agenda. It was always about Nigeria!"
Meanwhile, the lawmaker representing Ekiti South Senatorial District, Biodun Olujimi, on Tuesday, noted that she would reject the proposal seeking to empower underage married girls to vote during an election.
The former minority leader in the Senate stated this during an interview with Punch in Abuja, on Tuesday.