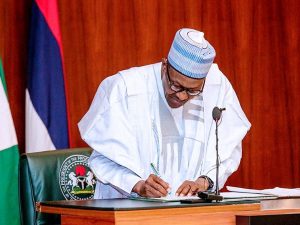 Known for his alleged nepotism, SaharaReporters has reported that the President refused to forward the names of recommended justices to the Senate for confirmation, despite recommendation from the National Judicial Council in October 2019 for the appointment of four new Supreme Court judges.
Those recommended include Adamu Jauro (North-East), Emmanuel Agim (South-South), C. Oseji (South-South); and Helen Ogunwumiju (South-West).
According to a source who spoke to the news medium, he said they learnt that the President refused to send the names to the Senate for confirmation because of the North-West.
He said some officials including the EFCC Executive Secretary, Olanipekun Olukoyede, were in July suspended by Abubakar Malami, Minister of Justice and Attorney-General of the Federation, on the orders of President Buhari.geopolitical zone did not have a candidate on the list.
"The President swore not to confirm the list until the candidate from the North-West was recommended by the National Judicial Council for appointment to the Supreme Court.
"The NJC just recommended the appointment of four other justices including Justice Mohammed Garba, who headed last year's Presidential Election Petition Tribunal as Supreme Court judges. With this new development, President Buhari has decided to send the names of the eight Justices to the Senate for confirmation.
He said now that the eight Justices will now be appointed at the same time, the Southerners among them who ought to have been appointed since last year will be on the same level with the Northerners recently appointed."