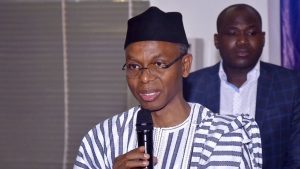 Nasir El-Rufai, Kaduna State Governor has vowed to hand over a crisis-free Kaduna at the end of his tenure in 2023.
The state southern part has experienced the worst form of brutality and wickedness in recent times, as many residents have been murdered by bandits and other enemies of peace.
El-Rufai, who spoke yesterday on 'KadInvest 5.0' aired on Channels Television, said his government has been taking some steps to end the decade-long crisis.
According to him, he plans to end crisis in the state which had been on for over 40 years.
He said, "This is what we inherited; we inherited a legacy of ethnoreligious intolerance that had no consequences, no one was ever really punished for this, this is one problem.
"The other problem was lack of security footprint in Southern Kaduna. The third problem was that even the security agencies that were there but inadequate tended to take sides.
"We've taken certain steps to stop that and I want to assure you that I intend to solve this problem. We have reached a tipping point where everyone is tired. We have looked at what has encouraged the problem in the past, we are dealing with it, we are arresting people, we are prosecuting them."
The governor, however, lamented that the justice system was slow and as such frustrating the process.
He added, "The justice system has frustrated us; there are many people who were prosecuted from the 2016/2017 crisis – the first crisis we had – and they are still going through the justice system.
"If we are able to get a few people convicted to send a message that when you do this, there are consequences, I think it will help.
"We have improved the security footprint of Southern Kaduna which has been the recommendation of the commissions of inquiry for decades. We now have an Army Base there, we have a permanent Mobile Police Base there.
"I am determined that I will be the last governor that will have to face this problem. For me, it is a key legacy I want to leave behind."