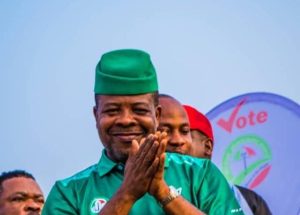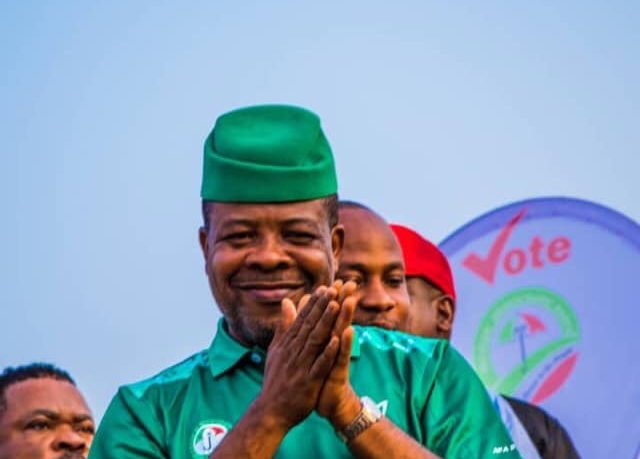 The National Chairman of the Peoples Democratic Party (PDP), Uche Secondus, has revealed that the party will back Emeka Ihedioha as he returns to the Supreme Court to challenge his sack.
Naija News recalls that the Supreme Court headed by Justice Tanko Muhammad has sacked the incumbent, Governor Ihedioha from office.
The seven-man panel of the apex court in a unanimous decision held that Ihedioha did not win the majority of votes cast at the March 9 governorship election.
In the Judgment delivered by Justice Kudirat Kekere-Ekun, the court accordingly ordered the Independent National Electoral Commission to withdraw the Certificate of Return issued to Ihedioha and issue a fresh Certificate of Return to the candidate of the APC on grounds that he won the majority of lawful votes cast at the election.
The court held that the lower courts erred in law when it rejected evidence tendered before them to the extent that votes from 388 polling units were not credited to the APC and Uzodinma.
Speaking before the PDP's National Executive Committee (NEC) meeting went into an executive session on Monday, Uche Secondus claimed that Nigeria was fast becoming a dictatorship under President Muhammadu Buhari.
He noted that after due consultation with legal experts the PDP was optimistic that the Supreme Court Justices may bow to superior reason and reverse themselves by returning the mandate to the party.
He also accused the Buhari administration of trying to foist a one-party state in Nigeria.
Secondus said: "When President Muhammadu Buhari and his party began the process of muzzling the other arms of government, our party cried out and alerted the nation and indeed the international community of the brewing dictatorship.
"Here we are watching helplessly as the legislature and the judiciary are put right in the pocket of the executive, an anomaly in a democracy that makes nonsense of the separation of power that is beautifully enshrined in the rule book to check the excesses of each arm of the government.
"At the NEC meeting ten days ago, we briefed you about the judicial abracadabra where the apex court in the land, the Supreme Court, delivered a bizarre judgment on Imo State where it took our PDP's governorship victory and handed it over to the APC candidate that came fourth.
"All of these should worry us because no democracy strives if the legislature and the judiciary are caged as we can see.
"We are witnesses to the emerging dictatorial tendencies in our dear country. As we all can see, a dictator is not just on the way but has arrived at the scene already. They have rolled out the process of establishing a one-party state so as to pave the way for a full-blown dictatorship."