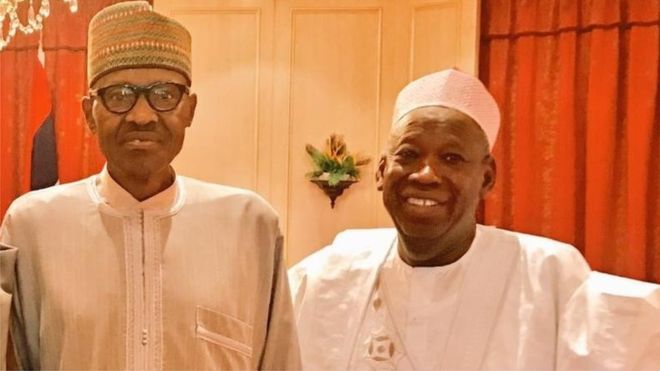 Governor Abdullahi Ganduje has briefed President Muhammadu Buhari on the case of a 22-year-old man sentenced to death by hanging by Kano Upper Shari'a Court for blasphemy.
Recall that the Sharia Court had given the judgment after finding Yahaya Sharif-Aminu guilty as charged.
Sharif-Aminu, a resident of Sharifai in Kano metropolis, was accused of committing blasphemy against Prophet Muhammed in a song he circulated via WhatsApp in March 2020.
Speaking to State House correspondents on Tuesday after a meeting with Buhari, Ganduje stated that he was at the Presidential Villa to brief Buhari on the blasphemy case in Kano".
He said the house of the father of the accused was burnt by locals "but the boy was secured, charged to court, and sentenced to death."
He said the boy can and has appealed the judgment.
Ganduje, however, did not disclose the position of the President on the matter.
The Kano governor thanked Buhari for assisting the state with N5bn to tackle the pandemic as well as other security issues in the state.
He said, "On COVID-19, I came to thank Mr. President for assisting Kano state with N5bn to fight the pandemic. That has assisted the state. We have opened five testing centres which are functional, the curve is now flattened.
"We carry out testing maximally but at the same time, the positivity ratio is very low."