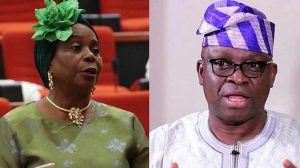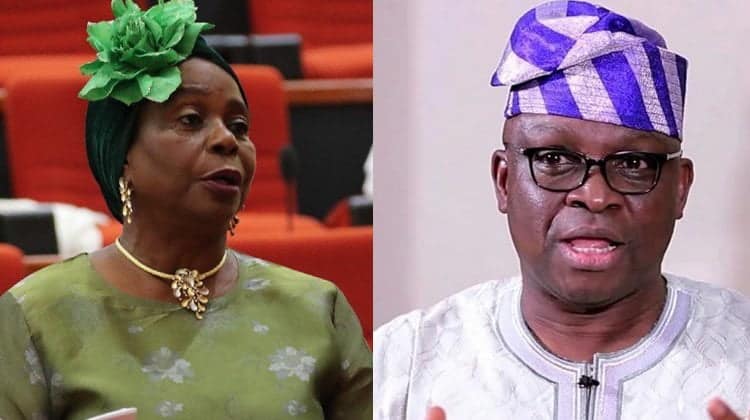 Senator Abiodun Olujimi (PDP-Ekiti South) has accused former Ekiti State Governor, Ayodele Fayose, and his followers of sidelining her because she is a woman.
Speaking with newsmen in Ado-Ekiti on weekend, the former Senate Minority Leader stated that she would not engage in attacking personalities in the name of playing the role of opposition.
She slammed Ayodele Fayose for sponsoring unbridled lies and campaign of calumny against her person.
According to Senator Olujimi, the former Ekiti governor and his supporters were not comfortable with her rising profile in the PDP.
"When thing happens in Ekiti, I sent messages and when things go wrong, I tried to correct it. The kind of opposition they want is the one whereby you wake up in the morning and start to abuse people. I am not cut out for that. I believe in opposition that is constructive and focus," Olujimi said.
"If they had allowed us, we have played the role properly by sitting down and marshal our strategy. A situation where the boys of Fayose will go on air and start maligning people including me, and saying all kind of lies and slandering people, I will not be part of that. That is why I pulled back and the pulling back is what they termed working for opposition. I will never leave issues and start to attack personalities."
According to Olujimi "The camp of Fayose was trying to take advantage of her gender to sideline her from the management team of the party, even when she has given her best to the service of both the party and the state, vowing to fight for her right."
"Can you imagine how I struggled to get my mandate back and went back to the senate and one person will sit and compile lists of the ward executives of the six local governments that I represent in the senate, I think that is not fair for people to treat my gender as a woman and think that I can't fight. We are quiet fighters, I will not take that and the people I represent won't take that."