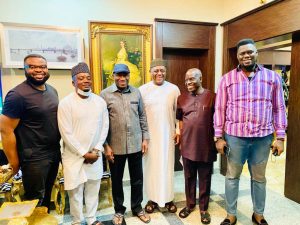 Former Aviation Minister, Femi Fani-Kayode has met with former President Goodluck Jonathan amidst a rumored plan to rejoin the All Progressives Congress (APC).
Naija News reports that the controversial politician met with the former Nigerian leader at his Abuja home on Tuesday evening.
In a series of tweets via his Twitter handle on Tuesday night, Fani-Kayode said he met with Jonathan to discuss some national issues with his former boss.
The People Democratic Party (PDP) chieftain, however, refused to say if he is returning to the ruling APC or staying put in the opposition PDP.
Fan-Kayode described Jonathan as the best Nigerian president ever, adding that he spent a wonderful evening with the former leader.
He also warned against attributing quotations taken from fake social media pages.
"I would advise Nigerians to be very wary about fake quotations that are being attributed to me concerning other political leaders in the country. If you did not read it on my verified Twitter handle or my verified Facebook page then I NEVER said it. Period."
Recall that Fan-Kayode had met with Chairman, Caretaker/Extra-Ordinary Convention Planning Committee Gov. Mai Mala Buni and Kogi State Governor Yahaya Bello at a Guest House in Abuja on Sunday.
The closed-door meeting, which lasted for about an hour, was brokered by Bello, who is said to be planning to contest in the 2023 presidential election.
Fani-Kayode had a day before met with Bello in his Wuse Zone 6 residence in Abuja before he led the former Minister to the party Chairman's Guest House.
He had also met with the APC Senator representing Kogi West in the Senate, Smart Adeyemi, a day before.
Some top members of APC had also expressed their reservations about the prospect of Fani-Kayode's return to their party.
Defending his meeting with the APC leaders, Fani-Kayode had in a statement posted on his Facebook page on Tuesday, said the meeting was about the affairs of the nation.
"Despite the obvious benefits and wisdom in this noble initiative it amazes me that some people should feel that it is wrong for me to sit with other leaders in the country to discuss issues which touch and concern the national cohesion, future and stability of our country," he said.
"I can and will never compromise or jettison my core fundamental principles for any reason and I stand firmly on my honestly held opinion that we need to enthrone equity, justice and fairness in this country for it to survive. I also believe in restructuring the country and in a vigorous and effective fight against terrorism. The fact that I am in talks with leaders from a cross-section of political parties, including the ruling party, does not in any way derogate from this and does not mean that I will ever change those views."