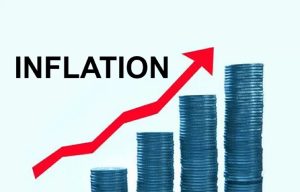 Economic experts have explained the reasons for Nigeria's rising inflation rate in recent months following the National Bureau of Statistics (NBS) report that shows the nation's inflation rate increased by 14.23 percent in October.
Pat Utomi, a professor of political economy and management expert, attributed the persistent increase to a series of events. According to him, it is presently impossible to bring down inflation rate because it will necessitate reduction in money supply to the economy. A situation he said could impede the current weak economic productivity and hurt the necessary investment to jumpstart the recovery process.
He said, "Typically, what you do to bring down inflation, from the monetary policy point of view, is to reduce the money supply to the economy. However, we desperately need investments to resume economic activity.
"Already, there is very little money reaching the investor. The investment to jumpstart growth is not taking place. "To make money expensive by hiking the interest rate (which is a natural response to inflation) will make matters worse. This is because it will discourage investment and we will get a really awkward situation.
"The Nigerian economy will not grow until we have banks sensitive to development. For too long, banks have been profitable from lending to three or four people in the economy.
"The banking industry has not supported real growth in the economy. Now, we have a situation where the supply chain has made products unavailable, pushing costs and therefore we have inflationary pressures."
Another expert, Prof. Uche Uwaleke, the President of the Association of Capital Market Academics of Nigeria, explained the surge in consumer prices or inflation rate was caused by several factors.
Uwaleke said, "With the effect of COVID-19 on the economy still lingering, especially from supply chain disruptions, it is no surprise that headline inflation has continued to rise.
"This is with the NBS October number coming in at 14.23 per cent up from 13.71 per cent the previous month.
"Contributory factors include the continuous border closure, the increase in VAT and implementation of stamp duty.
"The high exchange rate, especially in the parallel market, and the increase in the pump price of fuel also contributed because, according to the NBS, a major cause of core inflation came from increase in transport cost."
Uwaleke noted the persistent surge in the prices of food items, adding that this was despite CBN intervention.
"Consequently, government should focus on increasing food production by aggressively implementing the massive agricultural programme contained in the Economic Sustainability Plan," he said.