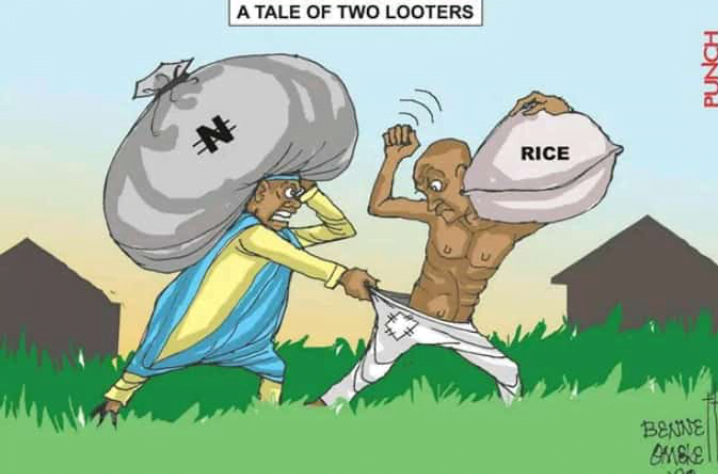 The fact that poor Nigerians are out on the street looting government and private properties is no longer news with state Governors declaring curfew due to the break down of law and order.
States like Kwara, Osun, Kaduna, Plateau, Lagos and many others have seen Nigerians storm warehouses to loot COVID-19 palliatives.
Questions have been raised on why state Governors decided to keep the palliatives in the warehouse while thousands of Nigerians have been starving.
The Nigeria Governors' Forum which was recently called out by Nigerians noted that the palliatives uncovered by poor Nigerians in warehouses across the nation were intentionally hoarded by state governors.
They insisted that the food items were stored purposely for members of the public, most especially the vulnerable.
Some Governors have even threatened to embark on house to house search for stolen palliatives, but have we asked ourselves who searches the house of corrupt politicians who loot the resources and treasuries meant for Nigerians.
Millions of Naira and Dollars are stolen sometimes on daily bases without no consequence however, any form of pilfering or looting by poor Nigerians is met with heavy punishment.
The word looting suddenly becomes a household name while the real looters of Nigeria resource sometimes escape without paying for their sins.
Isn't it funny that the legal system and the rulers judge the ruled differently when crimes are committed by the rich, influential or political officeholders?
Just a few months ago, a Nigerian identified as Muritala Salami was sentenced to death by the Lagos High Court sitting in Ikeja for stealing two phones and wristwatches.
On December 19, 2014, two Nigerians identified as Olowookere Segun and Sunday Morakinyo were convicted on only three counts: to death for conspiracy; life sentence for robbery, and three years imprisonment for stealing.
However, the likes of Senator Dariye was sentenced to 14 years' imprisonment on the charges of criminal breach of trust and misappropriation of funds (1.6 billion nairas) while he was the Governor of Plateau state.
The former Governor on Friday 16th November 2018 saw his 14-year sentence reduced to 10 years, a development which hardly comes the way of the poor Nigerians.
Former Governor of Delta State, James Ibori, was on Tuesday, April 17, 2012, sentenced to 13 years by Southwark Crown Court for stealing US$250 million from the Nigerian public purse.
James Ibori was, however, released from prison in December 2016 after a court order. He served 4 years out of the 13 years he was sentenced to.
The Important question is, why is our legal system soft on the rich and hash against the less priviledged?
Who are the real Looters, the poor Nigerians breaking warehouses across states or political office holders who loot resources meant to be shared among Nigerians?
If the rich had not looted the resources meant for the poor, perhaps there would have been no need for the present looting and hunt for food in hoarded in government warehouses across the nation.