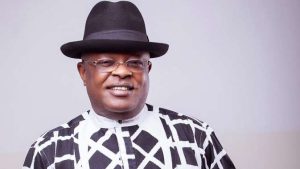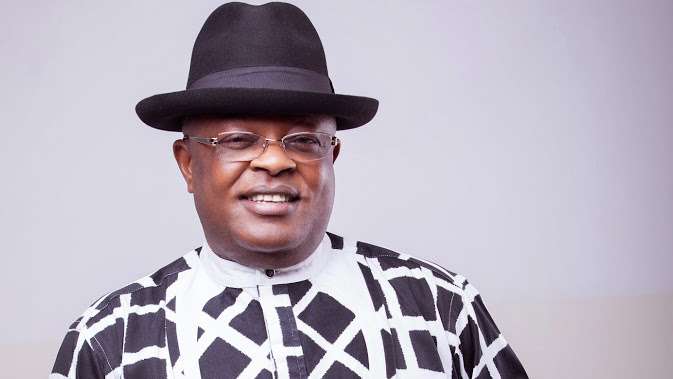 The Indigenous People of Biafra (IPOB) has warned Governor David Umahi of Ebonyi State not to test the resolve of the pro-Biafra group to protect 'Biafraland'.
Recall that the leader of the proscribed IPOB, Mazi Nnamdi Kanu had recently announced the launch of a regional security outfit named Eastern Security Network (ESN).
Kanu, in a statement on Sunday, 13th December, explained that the new security outfit was set up to protect the Eastern region and is modeled in the manner of the Amotekun in the Southwest and Miyetti Allah in the North.
But the South-east governors led by Governor Umahi had kicked against the security outfit in the region.
In a statement on Sunday, IPOB spokesperson Emma Powerful, warned the governors not to work against the ESN by inciting the army and others against it.
IPOB said Umahi cannot sacrifice Biafran freedom on the altar of his imaginary presidential ambition.
The pro-Biafra group also warned local vigilantes in the zone set up by state governors not to allow themselves to be used to carry out what it called evil agenda.
The group insisted that the new security outfit was not a Biafran Army but a vigilante group to defend the people of the old Eastern region against terrorists and criminals.
"The game plan is to orchestrate crisis between the vigilante groups and ESN to pave the way for Nigeria soldiers to attack ESN personnel," IPOB said.
"We, therefore, wish to warn all local vigilantes in every state of Biafra who has been or may be contacted or are being recruited by the masterminds of this evil plan through the traditional rulers and President General of any community or town in Biafraland to attack ESN operatives to have a rethink. Embarking on such an unholy mission is suicidal.
"Anyone, vigilante group, community, traditional ruler or President General, political elite or anybody under any guise who will conspire with the enemy to expose or attack ESN in their locality will live in eternal regret of such satanic mission. It's not a threat but a promise.
"We want to make it clear that leaders of any community in Biafra land where any ESN personnel is attacked will pay dearly for such attack."