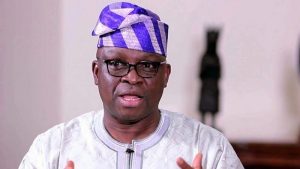 Former Governor of Ekiti State, Mr. Ayodele Fayose has defended the 'stomach infrastructure' policy made popular by his administration during his time in charge of Ekiti.
The former Governor who spoke on Saturday during a radio programme in Ado-Ekiti, the state capital to commemorate his 60th birthday celebration noted that he was able to achieve a lot for the people when he was governor.
When questioned about the stomach infrastructure programme he initiated when he was in office, he said Covid-19 palliative is stomach infrastructure.
He, therefore, used the opportunity to charge other politicians to do what they can be positively remembered for when they leave office as nothing lasts forever.
Speaking further, the former Governor said one of the days he will never forget was the day he was impeached as the governor of Ekiti State.
"The day I was forced out of government was the day I will never forget , this incident gave me high blood pressure and I asked God for three months to know what went wrong.
"Another memorable day was when I was sworn in again as governor of Ekiti State," he said.
He, however, noted that he has forgiven all his political opponents including associates that deserted him when things were not right, noting that only God decides who he gives powers to.
Meanwhile, Abubakar Isah Banupe and Ibrahim Sulaiman Mainasara both residents of Kano have been allegedly shot by police in Sharada area of ​​Kano on Saturday night.
An eyewitness to Sahabi Yusha'u told Daily Trust that the incident took place around 11pm at the Juma'a Mosque in Unguwar Sharada.