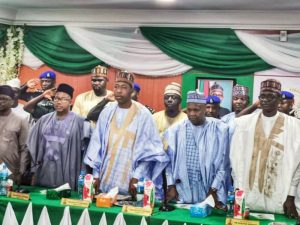 The League of Governors of northeastern Nigeria has called on the federal government to step up its fight against Boko Haram in the region.
The governors made the call during a meeting of the North East Governors Association on Saturday in Maiduguri, the capital of Borno State.
Borno State governor's spokesman Mallam Isah Gusau told the BBC that during the meeting, the governors agreed on a number of issues, including the need for the government of President Muhammadu Buhari to provide more modern weapons to the armed forces. acts of terrorism in the region.
They also demanded that the police be equipped with modern weapons to assist the military in the fight against Boko Haram.
"While the governors praised the Nigerian government's efforts in the fight against terrorism, they said it needed to step up its efforts to end the problem," said Isah Gusau.
They also elected Borno state governor Babagana Umara Zulum as the group's chairman for the next two years.
Other issues agreed upon during the meeting included the completion of all road projects that had been started and abandoned, but also the need for farmers to have access to agriculture, in order to avoid starvation.
The governors also called on the Nigerian government to intensify its efforts to explore for oil in the region, which it said had long since begun, which they said would help make the region's youth self-reliant.
They also agreed with the heads of the North East Regional Commission, who also attended the meeting, to consult with the states whenever they wish to take action to avoid clashes between the commission and the state governments.
The group was formed in March 2020, to address issues affecting the region, particularly security.
The governors agreed to submit their recommendations to President Muhammadu Buhari for implementation.
The governors in attendance included the host, Borno State Governor Babagana Umara Zulum, Adamawa State Governor Ahmadu Fintiri, Bauchi State Governor Bala Muhammad Kaura, and Yobe and Taraba State Governors.