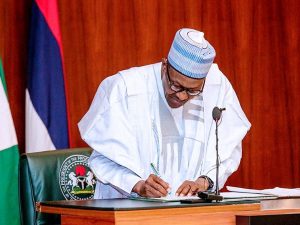 The administration of President Muhammadu Buhari on Thursday morning, gave more explanations on what Nigerians should anticipate from the 2020 Finance Bill.
Naija News understands the bill incorporates a few tax and fiscal incentives targeted at motivating Nigerians, and further cushion the effect of the current economic and financial difficulties being experienced by residents.
It will be recalled this online medium earlier on Wednesday reported that the Minister of Finance, Zainab Ahmed after the bill was endorsed by the Federal Executive Council (FEC) stated that there will be no increase in taxes and VAT.
Additionally, the presidency in a series of tweets from the federal government's official Twitter account noted that the 2020 Finance Bill, which will support the implementation of the 2021 Budget.
Specifically, it gave some highlights of the bill to include:
1. Reduction in import duties/levy on tractors, and on motor vehicles for the transportation of goods and persons.
2. Exemption of small companies (with less than N25m turnover) from payment of education tax (TETFUND).
3. 50% reduction in minimum tax for companies; from 0.5% to 0.25% of gross turnover, for financial years ending between January 1st, 2020 and December 31st, 2021.
4. Formal establishment of a Crisis Intervention Fund for Nigeria, through an Act of the National Assembly.